Los Angeles International Airport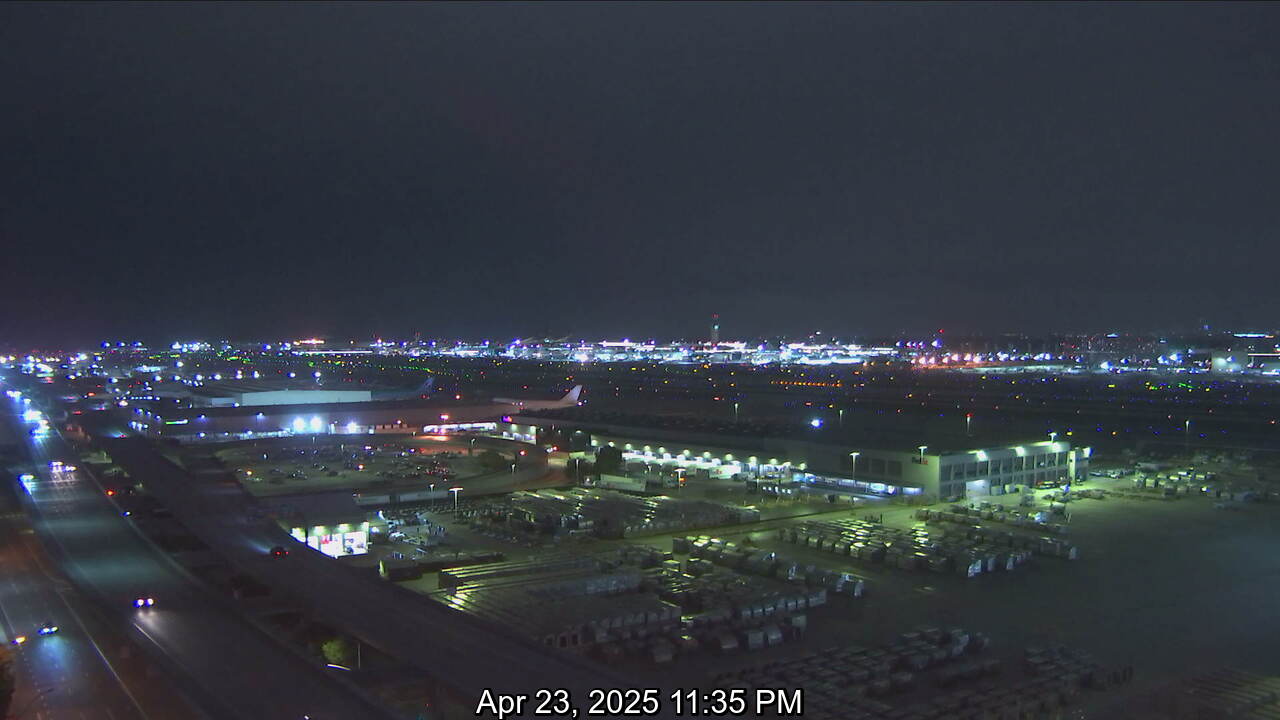 Objects Observed: Runway, Parked Planes at the Terminal, The Theme Building, Control Tower.
City of Orange Plaza Park
Objects Observed: Fountain in the center of the park, Two central paths with green spaces, Old building of Wells Fargo Bank, Traffic on the ring.
Port of Los Angeles
Objects Observed: Battleship USS Iowa Museum, Los Angeles Fire Department, Vincent Thomas Bridge, Downtown Harbor, Mormon Island, Large bulk carriers in port.
Angeles National Wildlife Refuge
Objects Observed: Ski Resort Big Pines, View of the ski slope and lift, beautiful nature in the mountains.
Santa Monica Beach
Objects Observed: Santa Monica Pier, Pacific Park on the Santa Monica Pier, Panoramic views of the beaches, PTZ camera.
Ocean Front Walk at Venice Beach
Objects Observed: PTZ Camera, Beach View, Walking Walkers, Small Eateries, Charlie's Deli Venice Beach, Windward Plaza.
Los Angeles city on the map
Weather in Los Angeles
Brief information and sights of the city of LA
Los Angeles is a city in the United States in the south of California, located on the Pacific Ocean. The largest in population in the state and the second - in the country - almost four million inhabitants. The city is the administrative center of the eponymous district, as well as the center of Greater Los Angeles - an agglomeration with a population of more than 17 million people.
Los Angeles is one of the world's largest cultural, scientific, economic, educational centers. The city is also one of the world's largest centers of the entertainment industry in the field of cinema, theater, music, literature and television.
Hollywood Boulevard is a famous stretch in Hollywood, home to famous stars dedicated to the celebrities of the film industry.
Universal Studios Hollywood Amusement Park is the largest amusement park in Los Angeles dedicated to films and television series.
Beverly Hills is one of the city's most luxurious areas, home to famous restaurants and shops.
The Los Angeles Museum of Art is the largest art museum on the West Coast of the United States with over 120,000 works of art.
The beaches of Santa Monica are famous beaches on the Pacific coast, popular among tourists and residents of Los Angeles.
Griffith Park is the city's largest park and is home to the famous Griffith Observatory, Natural History Museum and Planetarium.
Chinatown is a historic quarter with many restaurants, shops and theaters where Chinese festivals are held.
The Traffic Cinema is a famous movie theater in downtown Los Angeles, famous for its festivals and movie premieres.
The San Fernando Valley is a vast valley in northern Los Angeles known for its parks and ski resorts.